Baby Dedication is a special opportunity for Christian parents to publicly dedicate themselves to the raising of their child according to the Bible as they offer their child to the loving care and keeping of the Lord.
Just as Hannah presented Samuel to the Lord in 1 Samuel 1:28 and Joseph and Mary present Jesus at the temple as recorded in Luke 2:22, we follow these great examples in Christian parenting.
There are references concerning parenting throughout the Bible to help us to realize its importance to God. God commands parents to love Him and His commands. Then, parents are to teach these to their children so that they may also have a relationship with God.
The Baby Dedication focuses on:
the parental commitment to honor and teach the child about God,

the pastor's and congregation's commitment to support the parents in spiritually training the child,

prayer by the parents, pastor and congregation that the parents will raise their child to know and follow Christ,

(optional) the extended family of grandparents and aunts/uncles may also join in making their commitment to support the parents as they spiritually train the child.
Baby Dedication is not baby christening or infant baptism. Baby Dedication is the parents' commitment to honor and trust God in the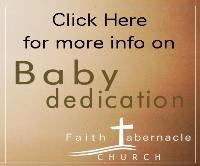 care and development of their child. Each believer should be baptized upon the confession of their faith so children are not baptized until they make their own personal decision to accept and follow Christ. The recommended age for Baby Dedication is two years and younger.
To commemorate the dedication of their child to God and recognize the parents' commitment to raise their child to know and honor God, each family receives a Baby Dedication Certificate signed by the Pastor showing child's full name and date of dedication and a baby Bible.

Cameras and video equipment may be utilized by the families to capture and preserve this special service.
______________________________________________
"Love the LORD your God with all your heart and with all your soul and with all your strength. These commandments that I give you today are to be upon your hearts. Impress them on your children. Talk about them when you sit at home and when you walk along the road, when you lie down and when you get up. Tie them as symbols on your hands and bind them on your foreheads. Write them on the doorframes of your houses and on your gates."
Deuteronomy 6:5-9 NIV
"Fathers, do not exasperate your children; instead, bring them up in the training and instruction of the Lord."
Ephesians 6:4 NIV
"...From infancy you have known the holy Scriptures, which are able to make you wise for salvation through faith in Christ Jesus."
2 Timothy 3:15 NIV